Did anyone see Lee Kwang-Soo's New Years Frutips commercial?
It's Hilarious!!! I was so giddy after watching it that I had to post this.
Kwang-soo teams up with Lo Fun for Frutips Hong Kong. For those who don't know who Lo Fun is, she is an actress that usually plays the ugly girl character or bullies in movies and has been bring many laughters to people's faces for years. I have watched Lo Fang in Hong Kong comedies ever since I was young and was surprised that their collaboration fits well together.
In the commercial, Kwangsoo sings the tune to a popular new years song in cantonese and you also see Kwangsoo's signature squeaky machine dance.  I am so glad they used kwangsoo's real voice and not dubbed it. Just watching the commercial makes me feel like I am in the festive Chinese New Years spirit.
The brand of the candy is called Frutips in english. It is a popular jellyish type candy that coated with sugar on the outside. In cantonese the brand name is 能得利 pronounced Lun De Lei which also sounds the same as can benefit or have good fortune. The company says Lun De Lei it is short for can get luck. For those who don't know cantonese the the following is an english translation to what they are singing in the commercial:
Lun De Lei. Lun De Lei.
The Chun Box also has the candy Lun De Lei. (the Chun Box is a container that is filled with lots of candy and sugared dried fruits to serve to friends when they are visiting over the new years)
Everyone gets A's can have good fortune.
Everyone working together can have good fortune.
Frutips, I Love you (in korean)
Exam can prosper, Work can prosper.
New Years, Exams, Work can all prosper
Frutips is newly repackaged in a bag form.
Wishing you good fortune/prosperity.
Love can also prosper.
Want everything to prosper? Buy a bag of Frutips.
If your Chun Box has Frutips, your whole year will be filled with prosperity.
Want to see what I work on with Frutips for the entire years? Go to instagram@frutipshk
For those wondering what it says in chinese on the youtube videos. Here is my rough translation.
【能得利】點解? 知唔係 -「能」夠「得」到吉「利」!
今年能得利重金禮聘光洙、魯芬"唱"住同你拜個靚年,
搞鬼演繹食「能得利」,做乜都「能得利」嘅精髓 !
一個才"高"八斗,一個家"肥"屋潤,究竟會擦出咩火花?
都係嗰句【新年有能得利, 萬事能得利】
【Lun De Lei 】What does it mean? its simply- can get luck!
This Year Frutips invites Kwang-Soo and Lo Fan to sing to wish you a happy new years.
When they are acting foolishly they eat Frutips, Working they also able to receive a generous amount of luck.
One is capable ( a pun on his tall height) , their other's house has an abundance of richness (a pun to her chubbyness). What chemistry will they ignite?
It is still the same phrase【for the new years there is Frutips , everything can prosper/be lucky.】
KwangSooRepublicHK from twitter posted behind the scenes pictures of Kwangsoo and Lo Fun smiling brightly throughout the filming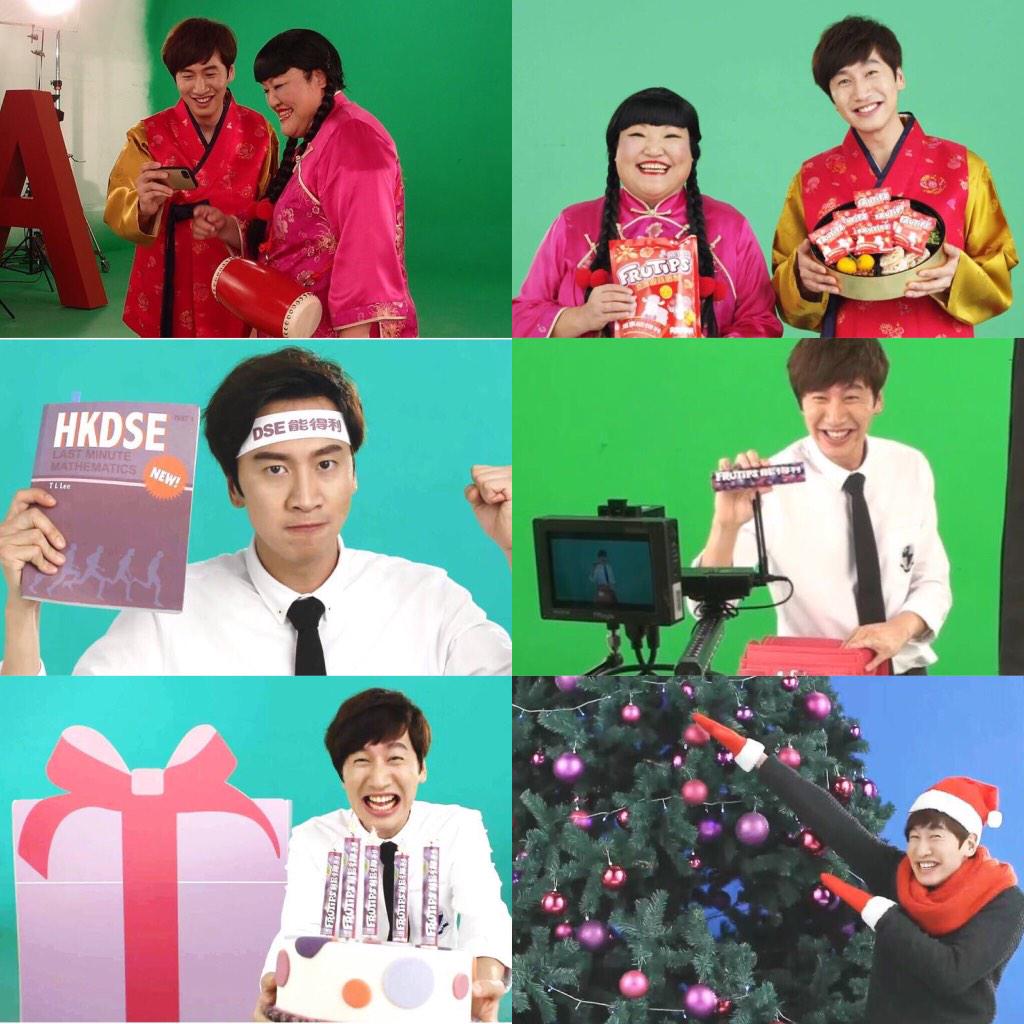 I think Kwangsoo is perfect for the New Year CF because no matter what role he puts on, he is bound to make me laugh.
What do you think about the CF?
note: I am not working for Frutips nor was I paid. I just decided to translate the songs so those who can't speak cantonese would know what they are singing about. The translation is just a  rough translation from the limited chinese I know. If I made a wrong translation or think I translated it wrong please let me know.
I don't own any photos or videos. Videos was taken from Frutips HK channel on youtube and picture was taken from KwangSooRepublicHK from twitter